Deciding if, when, and where to board our pets can be a huge stressor in our lives! But, for most of us, pet boarding can sometimes be necessary and may be the best choice for our dog when being with us simply isn't an option and when there are no trusted friends or family members available to dog sit.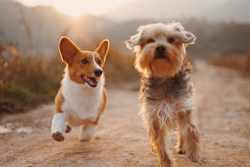 Searching for the right facility can be nerve wracking. You wonder if it's really as good as they say it is and if the pets that board there are safe and well cared-for, regardless of the time of day, weather, number of animals present, and all the other details that can affect your animal and how he or she emerges from the experience.
And while it's usually possible – and certainly necessary – to visit the facility you're considering, there are likely a number of questions you'll want to ask before you even step foot on the property, all in the interest of making sure your dog is safe and happy during his/her stay. Questions about safety should be the first to be addressed.
What makes a pet boarding facility safe?
A safe facility is one in which your dog can board peacefully, comfortably, and – in particular – away from threats by other dogs. That's why it's a wise idea to look for a facility that provides your pet with his/her own space.
Many boarding facilities place dogs together in large, unruly packs. They'll tell you it's good for your dog's "socialization". However, this set-up is likely chosen by the owner of the facility because it saves money on both equipment and personnel.
For your dog, however, the possibility of injury is enormous, especially when your pet is unaccustomed to being with other dogs.
Consider this. If you were checking into a hotel, would you want your own room or would you be amenable to sleeping in a large room along with all the other people staying at the same hotel that evening?
Sounds ridiculous, right? Of course you don't want to share!
But when you leave your dog at a boarding facility that keeps all of its "tenants" together, that's essentially what you get. A shared room with no privacy and plenty of opportunity for mishaps.
Wouldn't you be happier with your own private room? As a matter of fact, you'd probably insist on it! And if you're like most dedicated, loving pet owners, you'll want the same quality care for your dog.
A facility with indoor/outdoor "suites" for each animal is certainly preferable to one where each animal lives in a common area for the duration of their stay.
That's what we offer at Creekside Kennel. A safe personal space with room to sleep and play, with frequent turn-outs throughout the day. It's the scenario we've found is best for your dog as well as the staff that cares for them.
Safety should be paramount in all boarding facility, but sometimes it's not. That's why it's up to you to choose a boarding facility that knows the ins and outs of proper care and will keep your dog safe.
And who's watching?
The staff members of a dog boarding facility also play an important role in your pet's safety. That makes it extra important for you to know who's minding the store, so to speak, before you choose a particular facility.
Is it the inexperienced 16-year-old who pet sits for neighbors every now and then but has no professional experience or does the facility you're considering employ only those who've been properly trained in the care of animals at professionally-run boarding facilities? The right answer is essential to the health of your pet.
Remember, as you consider a particular dog boarding location, don't be hesitant to ask questions about the employees, their credentials, and their experience. A boarding facility that sincerely cares for the safety of your pet will be extra careful about the individuals they hire to be a part of their trusted staff.
Need more information about our doggie suites and other amenities? Contact us at 518 283-1251 or fill out the contact form on this website.
« More posts