If you're a dog owner and a dog lover, you recognize – of course – that dogs require stimulation of all sorts, just like kids. And when they don't receive that stimulation – both physically and mentally – they tend to get into trouble.
Dogs get bored, too, and if you find your puppy – or even your more mature dog – tearing up the chair cushions or unrolling the toilet paper and spreading it throughout the house, chances are that they aren't receiving enough physical AND mental exercise. Indeed, both are ultra-important, but dog owners often focus more on the physical than on the mental. However, it's wise to offer a little of each.
Mixing mental & physical exercise for your dog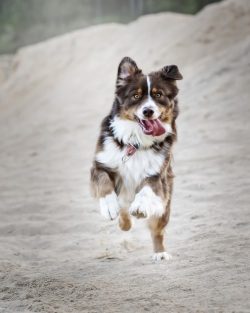 You may already be doing many of the things you need to do to mix mental and physical exercise for your dog. However, if you've pretty much confined your dog to romps around the backyard or leash walks along the same path each day, chances are your dog could use some more brain games. Here are a few suggestions that might help your dog's noggin!
Vary your walks…and let your dog explore – As far as your daily leash walks are concerned, it's time to make changes if you've been doing the same old, same old each and every day. Walking will always represent great physical exercise for both of you, but take your pooch somewhere they can literally stop and smell the roses. Let your dog explore, sniff, and lead you around a bit. It's all about sensory enrichment, not just getting from point A to point B in as little time as possible. So, plan your walks when and where you have some extra time to explore.
Make your dog work for his/her food – Experts remind us that dogs possess natural scavenging habits and that our domesticated animals should sometimes be made to work for their food rather than just handing them a bowl of nutritious goodness. Many suggest you use a toy to do this. A favorite is the Kong or Kong Wobbler™, a truly mentally-stimulating food dispenser. Dogs need to wobble, spin, and roll it to get the food, so they're using their brains and getting physical exercise while figuring out how to access the yummy stuff. A great choice!
Use interactive puzzle toys – If you've never seen a dog puzzle toy, they're kind of like the interactive toys you purchase for infants and toddlers. Press a button to squeak, open a door, pull a knob. Some of them are even designed for hiding treats inside! Puzzle toys are also great engagement for when you can't be there to play with them for an extended period of time. Most are quite inexpensive and your dog will get hours of playtime!
Add some new tricks – Yes, you CAN teach an old dog some new tricks! So, in addition to the usual sit, lie down, and shake, you can add something more challenging to the mix. How about weaving between your legs, jumping through a hoop, or spinning? Or for something really stimulating, how about teaching your dog the names of things around the house or the names of his/her toys? Check out videos on how to do this so that he/she begins to recognize items by name. Then, to add some physical exercise, you can turn this into a game of search and find it.
Create an obstacle course – Finally, if you have the space to do so, put together a cool obstacle course for your dog. It's something your pup can use over and over again and it can be used in all types of weather as well, even when it's too cold or hot to take a long walk. It's a good mental workout and teaches your dog agility as well. Many can be made using things you have around the house but you can also buy inexpensive props like poles, hazard cones, and more.
Remember, it's essential for your dog to keep both his/her mind and body moving. If your dog spends a great deal of time at doggie daycare, make sure the facility is providing all kinds of stimulation during their stay. At Creekside Kennel, our expert caregivers offer both mental and physical stimulation throughout the day to keep your dog in tip-top shape.
Want to know more about our programs and services? Call us at 518-283-1251 for more information or to talk to one of our staff members.
« More posts