The Many Benefits of Doggy Daycare
Chances are, you've heard about doggy daycare – and how it's all the rage for our canine companions nowadays. Imagine a place where your dog can be treated like royalty, and have safe, supervised fun, all while you enjoy a worry-free day away from home: it almost sounds too good to be true! Fortunately, not only is doggy daycare a real thing, it's actually beneficial for your dog – and for you! Here are eight surprising benefits of bringing your furry friend to doggy daycare.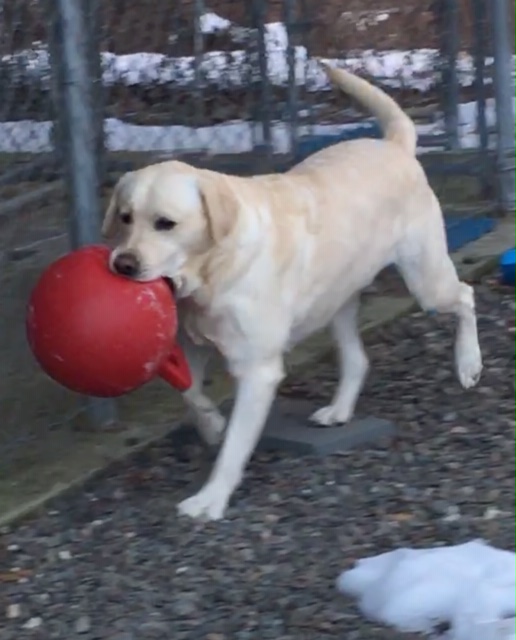 1. Attention
It's no secret that dogs thrive on human companionship and attention – after all, we call them man's best friend for a reason! When you're away from home and busy with work, family, and friends, it can be challenging to provide your dog with as much attention as you'd like to. Doggy daycare at Creekside Kennel is a way to ensure that someone can keep your pet company even when you're unable to.

2. Socialization
Doggy daycare is a great way to help your pup improve their socialization skills and learn to interact and play with other dogs while in a supervised setting. Learning how to meet unfamiliar dogs and how to behave around them can help your dog to become more confident and calm when interacting with other dogs in the future.
3. Companionship

Speaking of getting to know other dogs, your pup could meet his or her new best friend while at doggy daycare – and you might just make new human friends as well! While your pet is having fun playing with other dogs at Creekside Kennel, you may meet other dog owners just like you. It's a great way to meet new people with whom you already have something in common – your love of dogs! You may even wind up scheduling play dates with your new human and canine companions.
4. Prevent Boredom & Build a Routine
Spending time at doggy daycare is a change in routine for most dogs, and this change in scenery can help to alleviate boredom and separation anxiety while you're away, which can in turn help to reduce destructive behavior. If your dog tends to get lonely or bored while at home and chews or damages your belongings, doggy daycare is the perfect way to keep him entertained and prevent negative behaviors from occurring.
5. Exercise
Exercise is crucial to your dog's health and happiness. But when your dog is home and you're not, chances are, he won't have many opportunities to exercise or burn off any of his excess energy. Doggy daycare at Creekside offers your dog the chance to run, play, and zoom around to his heart's content!
6. Flexibility with Your Schedule
Unlike traditional pet-sitters with limited availability, doggy daycare offers the opportunity for you to bring in your dog based on your busy schedule. Whether you're in need of daily boarding or occasional drop-ins, Creekside Kennel can accommodate your (and your dog's!) needs.

7. Safety
Do you worry about your dog's safety when you're not home? Boarding your dog at a doggy daycare ensures that you won't need to stress about what could happen to her when you're not around. Safety is our number one priority at Creekside Kennel – we keep a close eye on your pet and supervise her during playtime to keep her out of trouble!

8. Pampering
Doggy daycare can be a great opportunity for your pet to have a spa day – Creekside Kennel offers grooming services ranging from nail trims and baths to full grooming including cutting and styling. Why not treat your dog to a day of pampering while you're away?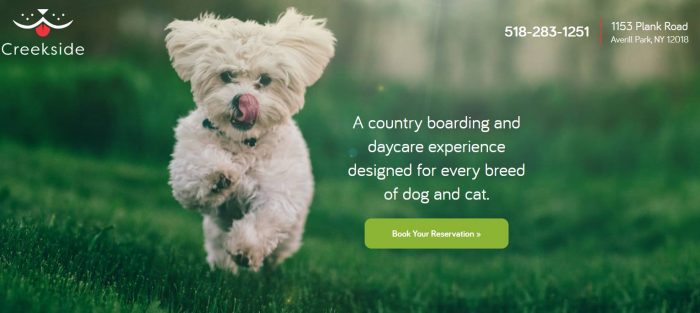 Contact Us for More Information about Our Doggy Daycare Services in Averill Park near Albany, East Greenbush, & Troy, NY
We would love for your pet to experience our doggy daycare services! Our doggy daycare is located in Averill Park, just minutes away from Albany, East Greenbush, and Poestenkill, NY in Rensselaer County. We are also a short drive away from Bennington, VT.
Ready to schedule your visit? Give us a call at (518) 283-1251 or contact us online. It's quick and easy to book online. We can't wait to see you and your pup soon!    
« More posts